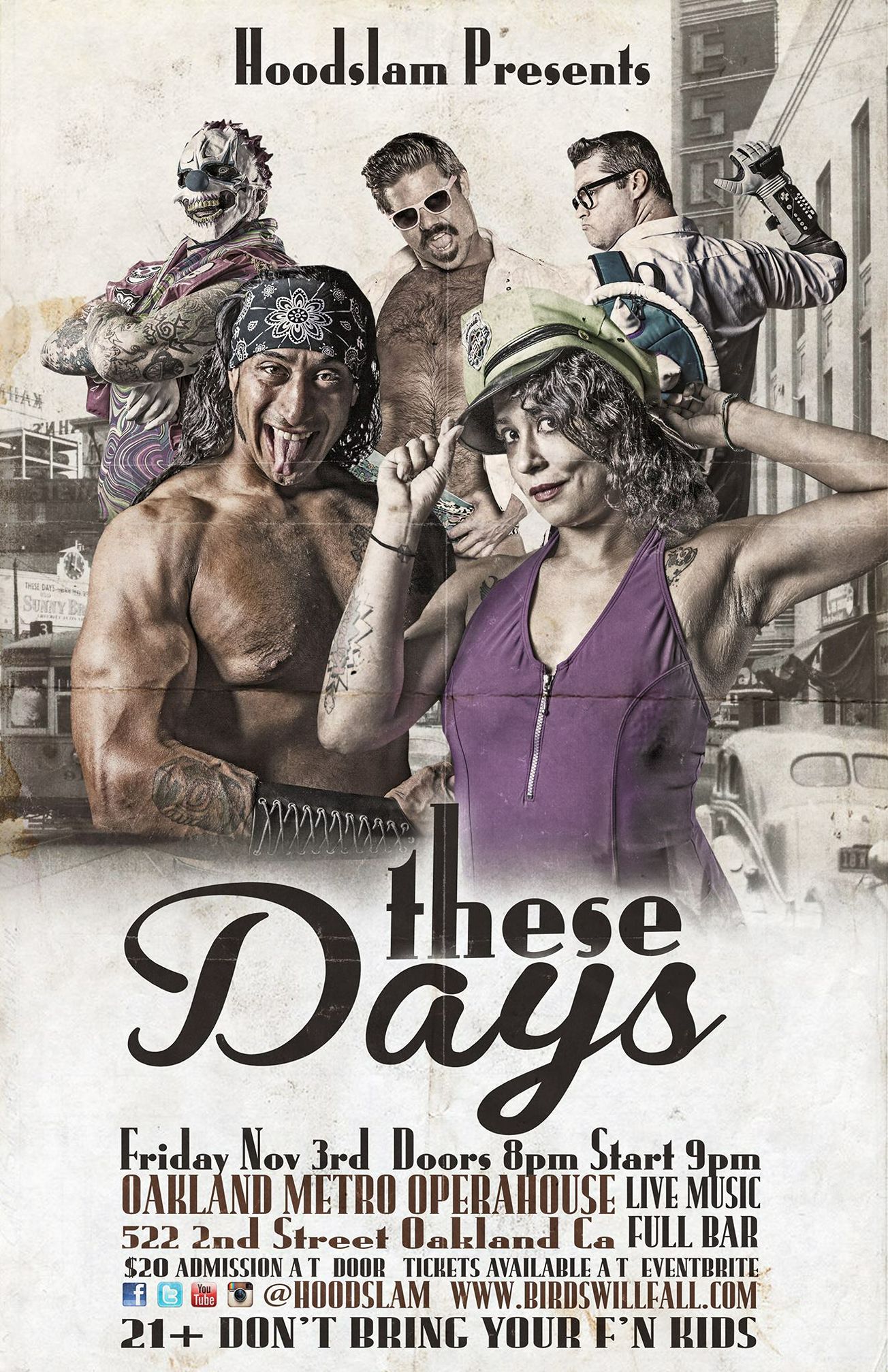 From the Metro Operahouse, hosted by Broseph Joe Brody and the Hoodslam Band
Drugz Bunny addressed the crowd to open the show.  A month prior, he'd finally gotten his rematch for the Golden Gig but fell short with PONG secretly switch his cocaine with a different substance, leading to a seizure/overdose type scenario.  Without his Gig or his coke, he's not sure where to go.  James C then arrived, saying he knew Drugz more than anyone, and he knew Drugz can do it without the coke.  He would help him get his groove back.
James C and Drugz Bunny BARELY defeated Berkeley Brawler and Richard Shhhnary
Cereal Man defeated Bat Manuel after an EVIL CEREAL MAN interfered.  This evil doppleganger has been the catalyst of all their conflict.  Bat Manuel's keen detective skills led him to believe Cereal Man was lying, but the truth is now out.  There are two!  Or …were…?  As after the match, the evil Cereal Man unceremoniously attacked his more likeable counterpart.
Funnybone, El Chupacabra, Super Beast and Glorious Banana defeated Altair, Virgil Flynn III, Brittany Wonder and Johnny Drinko Butabi in a wildcard random select tag match when Funnybone double stomped Altair out of a backbreaker from Super Beast.
Anthony Butabi let the crowd know that its been a rough year, but he's now back at his peak and happy to be the fans new Best Athlete in the East Bay after defeating Brutal Rob Hands for a Golden Fannypack in a bloody deathmatch at BLOODSLAM.  Coach Joey Nuggs, the man with the other Golden Fannypack and tag partner of Rob Hands, attacked Anthony Butabi.  The two would go back and forth, the bell would ring, Referee Nuk Nuk would get caught in the fray, and finally Rob Hands would emerge to tell his Coach that Anthony Butani earned it, and he wanted no part in stealing it back.  All parties would separate, and the match was ruled a no contest.
The Caution (CAUTION) Anton Voorhees and Ean Hancement defeated Ken Masters and Zangev Darevko (replacing Ryu, who stayed home to be a family man).  The CAUTION would go on to challenge the Stoner Brothers TONIGHT for a shot at the Intergalactic Tag Team Championship, but they were turned down as the Stoners already had a match
Joey Ryan and mystery partner Joey Ryans Penis defeated the Stoner Brothers after The CAUTION interfered to become the Intergalactic Tag Team Champions
Pissed Off Nerdy Gamer PONG defeated Hip Hop Harry after attacking him with his own crutch to retain the Golden Gig.  Post match, he would continue the attack.  Fucking Obese Nerdy Gamer FONG, the only partner and friend PONG ever liked, shoved PONG off of Harry saying it was enough.  The two would hug it out, but then PONG would punch FONG in the dick, declaring he didn't need anyone.
comments