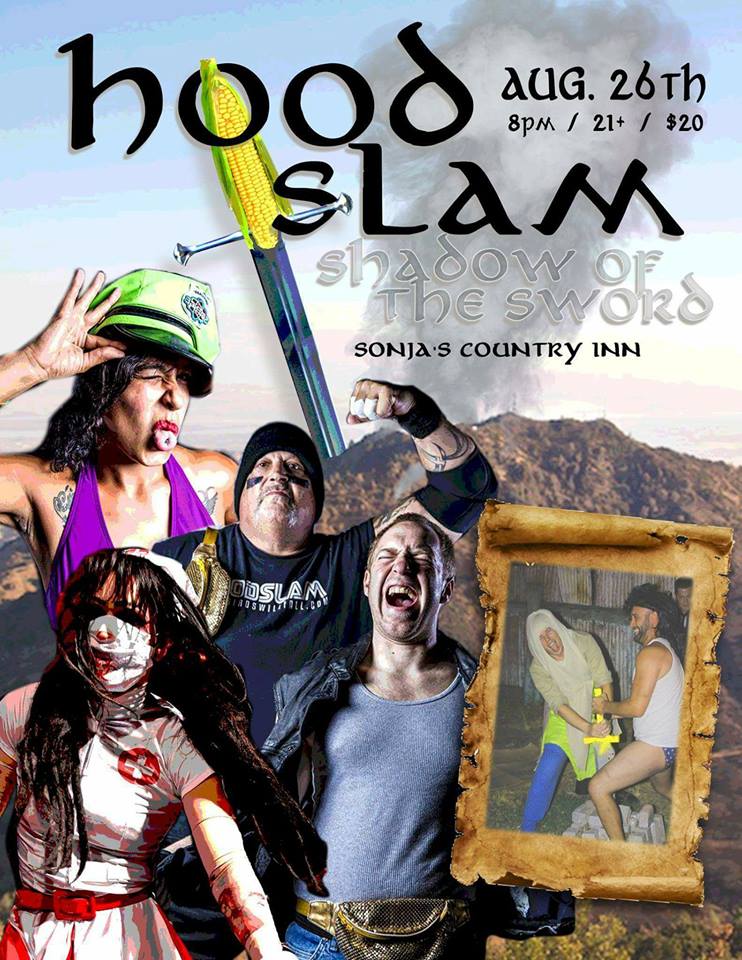 Commentary by Broseph Joe Brody, unplugged music by the Hoodslam band!  As usual, all winners are given an opportunity to remove the Corn Sword from the Stone.  Only the one who is successful will be noted.
The cable under the ring broke.  We went and bought a new one.  In the mean time, Freddy Yip won the first ever open invitational fan fest promo fucktacular, defeating… wiggles?
Drugz Bunny defeated Big B
Coach Joey Nuggs defeat Joey Smoak to defend the Best Athlete in the East Bay Golden Fannypacks
Manny Faberino addressed the crowd, saying he was banned from last Knightsen event for not following the stipulation of the match he lost on the first one this summer – if he were to be locked in the U-Haul by Steve the Cock Fighter, he would have to grow a mustache, despite already having one.  This month, he had two and was allowed to participate.
Link to the Future Anton Voorhees defeated Manny Faberino – Before Anton was given his opportunity to remove the CornSword from the Stone, Manny Faberino attacked him and attempted to unfairly get a free try and the sword.  He was rebuked by Anton Voorhees and Broseph Joe Brody, who locked him in the U-Haul again.
Peanut Butter Jelly Banana defeated Nurse Ratchet
Ultra Girl Brittany Wonder defeated Draggin'"The Super Dragon" Dragon.  Its what he wanted to be called.
Best Athlete in the East Bay Brutal Rob Hands said that he would now remove the Corn Sword unopposed, as all participants had performed in the night already.  Just then, the door of the U-Haul opened, and Manny Faberino emereged – however, he had changed into a giant corn.  He claimed to be possessed by the spirit of Cornelius, who came from a dimension of corn people who had a tournament to remove a people sword.  It's end was the demise of his universe, and he vowed to stop it from happening again.
Cornelius defeated Brutal Rob Hands in a match NOT for the Best Athlete in the East Bay Golden Fannypacks
Cornelius felt the Corn Sword call to him, and he knew that as long as it stood "…men and women like [Brutal Rob Hands] would attempt to usurp its evil power…".  Cornelius then SUCCEEDED in removing the Corn Sword from the stone, to witch the crowd erupted into chants of "CORN" – no really.  Cornelius then declared that the felt the Corn Sword begin to taint him, and admitted that it was he who removed the people sword and doomed his universe.  He went on to state that he knew now what must be done, and rejected the corn sword, and stood in its place atop the stone, petrifying into a corn person statue before finally expunging the body of Manny Faberino back to his own consciousness.
Thank you for your sacrifice, Cornelius.
comments