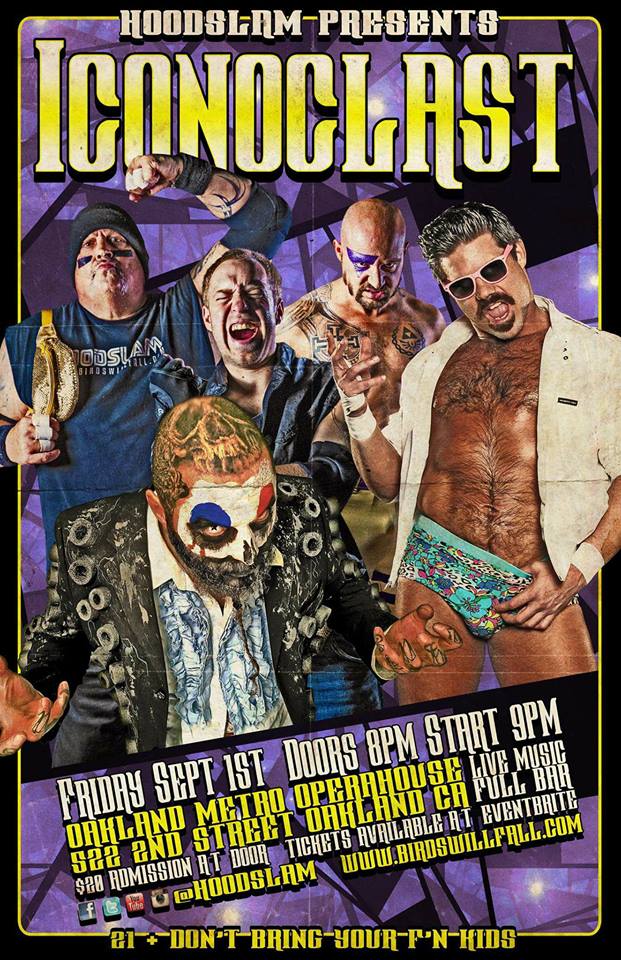 Broseph Joe Brody and the Hoodslam Band hosted this bodacious event at the Oakland Metro Operahouse, go watch it free on our twitch…
Stoner U Pre Show –
Batmanuel defeated Shawn Michaels Allen in the Sing of the Ring Opening Round Match with "Ducktales"  (wooo woo)
The Caution (caution) addressed the crowd, stating that they had to publicly let go of the past before they could move on to their future.  They played a lengthy film titled "The Wake of DARK Sheik", and finally said goodbye to their former partner.
SuperBeast defeated Manny Faberino, at wrestling.
Hoodslam proper:
Johnny Drinko Butabi kicked us off, stating that after winning the Battle Royal of Supremacy last month that he would use his prize of booking Octobers "Fuck the Fans 8" event to his benefit – planning a match with himself vs Golden Gig Champion PONG.  He quickly turned his attention to Drugz Bunny, though, the man/rabbit who holds the CM Punk Memorial Trophy, allowing him a shot at any hoodslammer at any event in any match.  Knowing that this would be an opportune moment for Drugz to cash in, Drinko wanted to make sure he knew he had his eye on him.   Drugz would let Drinko know he knows by coming to the ring for a match.
Drugz Bunny defeated Johnny Drinko Butabi after a distraction by The Peanut Butter Jelly Banana, who's apparently pretty sore about being the last one eliminated by Drinko in last months Battle Royal of Supremacy.
The CAUTION (caution) – Ean Hancement and Anton Voorhees vs Shotokan Dojo – Ryu and Ken Masters best of 5 series finale never happened.  Both teams fought before the bell, Referee Wiggles declared it too chaotic and threw the match out, both teams continued to fight, and finally the Intergalactic Tag Team Champions the Stoner Brothers would attack all 4 men and declare their tag team dominance.
Virgil Flynn III/Batmanuel/Nurse Ratchet defeated El Chupacabra/Brittany Wonder/FONG (replacing Cereal Man who refused to fight with Batmanuel or team with Brittany Wonder) after Nurse Ratchet stabbed El Chupacabra with a syringe and stole his blood.
Rick Scott Stoner defeated Joey Ryan after interference from Scott Rick Stoner.  Joey had come to challenge for the Intergalactic Tag Team Championship, but the Stoners did not accept Joey's statement that his partner was his dick.
Golden Gig Champion PONG defeated Sinn Bodhi after getting help from his partner in Team Game Over, FONG.  He stated that next month would be his one year anniversary as champion, and fuck you.  Sorta.  I'm paraphrasing.
Peanut Butter Jelly Banana defeated James C, Cody Devine, Zangev Darevko, Doc Atrocity and Anthony Butabi in a six entity free for all
Best Athletes in the East Bay Coach Joey Nuggs and Brutal Rob Hands issued an open challenge for their Golden Fannypacks
Coach Joey Nuggs defeated Hip Hop Harry to retain the Golden Fannypacks after Brutal Rob Hands attacked Harry with his own crutches at the opening bell
They would then issue another challenge, resulting in Scott Rick Stoner answering the call
Brutal Rob Hands defeated Scott Rick Stoner to retain the Golden Fannypacks after Coach Joey Nuggs, Rick Scott Stoner, Ryu, Ken, Ean Hancement and Anton Voorhees interfered
we're back in Oakland for fuck the fans 8 first Friday in October, and also bloodslam 10/20.  Go, or watch on twitch.  Thanks!
comments