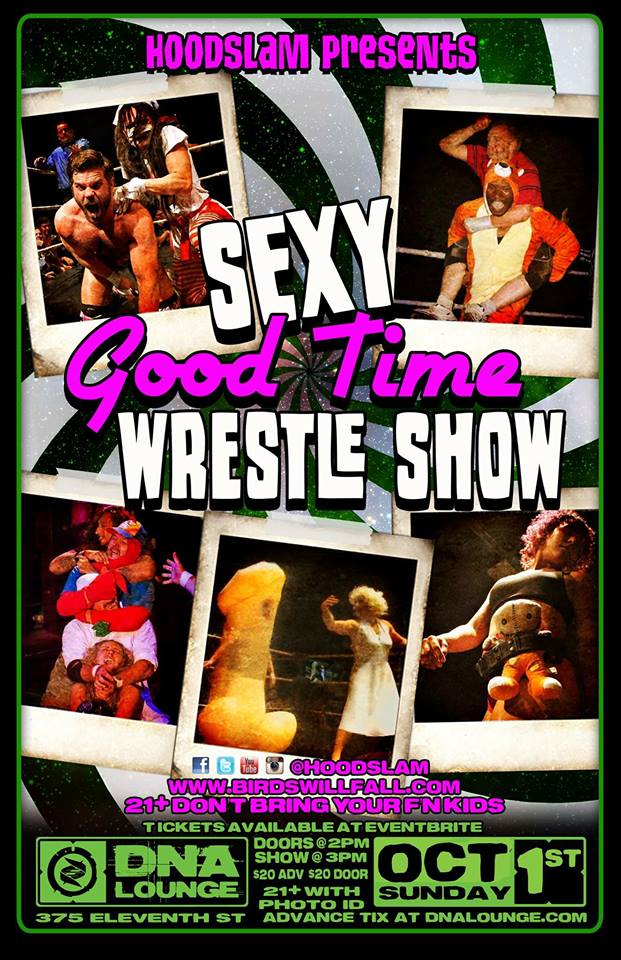 Music by The Hoodslam Band
Commentary by Broseph Joe Brody (and in spirit Wonder Dave)
Brittany Wonder defeated Manny Faberino after a low blow.
Nurse Ratchet defeated Berkeley Brawler with "Princess Die"
The Stoner Brothers Scott Rick and Rick Scott Stoner defended the Intergalactic Tag Team Championship against the teams of Calvin and Hobbes and Carmen San Diego/Where's Waldo when they hit Carmen San Diego with the "Rizz Bomb"
Coach Joey Nuggs and Brutal Rob Hands defended the Best Athlete in the East Bay Golden Fannypacks against Shotzi Blackheart
Richard Shhhnary defeated Silent Assassin Jean Pierre in a Sanctum of Silence Match
MegaZord defeated Elvira, Xena, Anton Voorhees, BatManuel and Cornelius in a SyxxPac Challenge after he pinned Xena with a big Leg Drop
Glorious Banana defeated Johnny Drinko Butabi and Drugz Bunny when he pinned Drinko with an Oklahoma roll.  Because of a prematch stipulation, Banana gets a shot at PONG for the Golden Gig at Fuck the Fans 8, and Drinko does not.  Had Drugz Bunny won, he would be immune from Johnny Drinko Butabi's booking at FTF8.  Had Johnny Drinko won, Drugz Bunny would not be allowed to cash in his CM Punk Memorial Trophy at FTF8.  None of that happened, and Drinko can book Drugz in bullshit, Drugz can still cash in anytime, anywhere, against any Hoodslammer, and has stated he WILL cash in at FTF8 to fight for the Golden Gig.
Watch it on twitch, it was amaaaazeballs.
comments