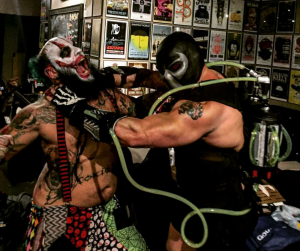 Thank you #RENO and Cargo for hosting our #Hoodslam #Halloween and the 150ish that came to party with us! With Brian Zane and Johnny Butabi on commentary and The Whiskey Sirens providing some mid match raunch, the following went down:
The Hoodslam Band was known as Dong of the Dead.
1. Nurse Ratchet defeated Christina Von Eerie
2. The Stoner Brothers fought The Rejects to a no contest decision after an interjection by El Chupacabra
3. Virgil Flynn III defeated Joel Killmeister
4. James C defeated El Chupacabra after interference from The Stoner Brothers
5. Coach Nuggs and Brutal Rob Hands defeated the impromptu team of Zangev and Drugz Bunny after Drugz intentionally blinded Zangev with cocaine.
6. Shotokan Dojo Ryu and Ken defeated DARK Sheik and Super Beast to advance to the finals of the Top of the SkyDreamers Miracle eXstacy Cup on November 4th
7. Brittany Wonder defeated Shotzi Blackheart
8. The Rejects , El Chupacabra and Christina Von Eerie defeated the Stoner Brothers, James C and Virgil Flynn III when Chupy pinned Virgil. Post match a brawl erupted, and Pooh Jack emerged with a trash can of weapons, and like the sherif of the fuzzies, cleared the ring of both teams.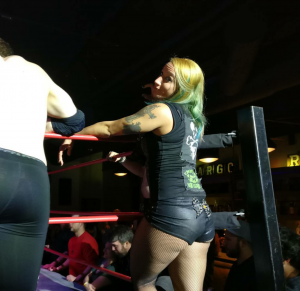 Hoodslam is on YouTube and twitter and stuff. Check it out. Birdswillfall.com is also neat.
November 4th is The Walking Phoenix at the Oakland Metro!
#ftf ! Gig! Bluaghh!
comments