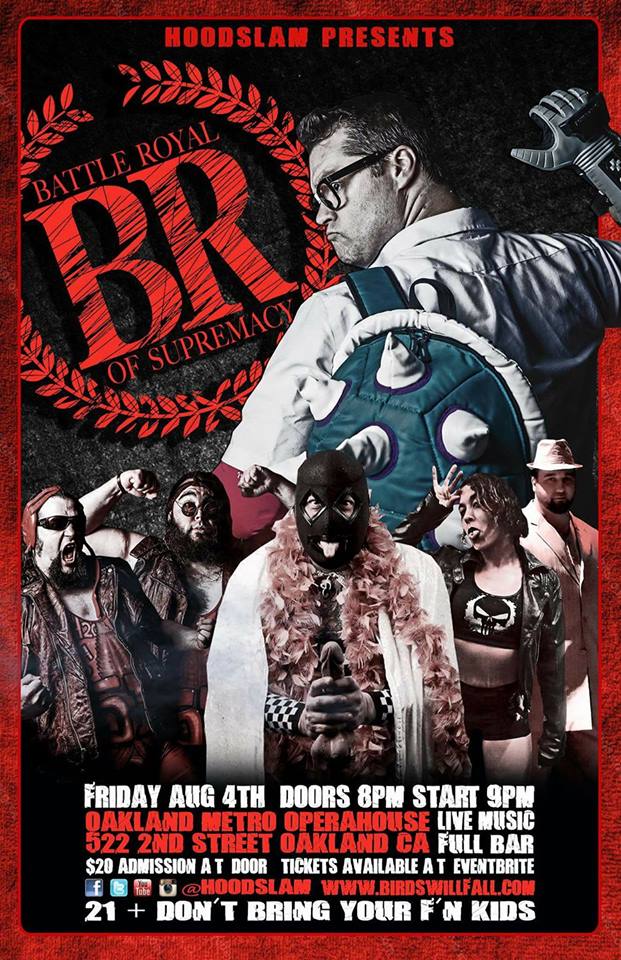 August 4th, 2017
Oakland Metro Operahouse, Oakland California
Stoner U Pre Show, Commentary by Scott Rickerson Stoner and Texas Mike O Shea, Ring Announcing by Sean Michaels Allen
Super Beast defeated Steve Tresario
Texas Mike O Shea defeated Doc Atrocity when the fans voted his rendition of Fat Bottom Girls better than Docs version of the Sex Pistols My Way
Music by The Hoodslam Band, Commentary by Broseph Joe Brody and Doc Atrocity
1. Coach Joey Nuggs and Brutal Rob Hands defeated Nurse Ratchet and Brittany Wonder to retain the Best Athlete in the East Bay Golden Fannypacks
2. El Chupacabra and Virgil Flynn III went to a draw when both men pinned each other.
3. The Caution (CAUTION) Anton Voorhees and Ean Hancement defeated Shotokan Dojo Ryu and Ken Masters
Batmanuel called out Cereal Man after last months interference.  Cereal Man denied being responsible, but Batmanuel demanded JUSTICE
4. Batmanuel defeated Cereal Man
5. Otis the Gimp/Zangev Darevko/Johny Drinko Butabi defeated The Bird/Anthony Butabi/Drugz Bunny in a Random Select Six Man Tag Battle Royal of Supremacy Qualifier
6. The Stoner Brothers defeated The Whirlwind Gentleman Remy Marcel and Jack Manley to retain the Intergalactic Tag Team Championship
7. PONG defeated James C to retain the Golden Gig Championship.  James C appeared to have PONG defeated, but in an act of friendship, instead invited Drugz Bunny to cash in his CM Punk Memorial Lethal Lottery Tournament Battlebowl Championship Trophy – that grants any match with any Hoodslammer at any time – and defeat PONG for the Golden Gig himself.  Drugz did not appear to wish to cash in at this time, in that fashion, and in the disagreement PONG was able to find opportunity for victory.
8. Johnny Drinko Butabi won the Battle Royal of Supremacy, outlasting all other match winners who qualified as well as The PBJ Banana, Big B, Richard Shhhnary, Berkeley Brawler, The American Marvels and Charlie Chaplin.
He now has near full booking control of October First Friday Event "Fuck the Fans 8"
comments