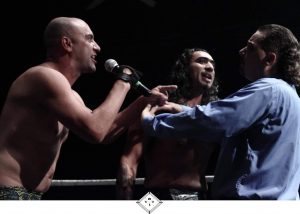 The road to the seventh annual Fuck the Fans has been treacherous… for performers AND staff! It all happened so quickly…
In the midst of August's Battle Royal of Supremacy, our humble referee Guido crossed over from non-violent participant to active combatant after seeing the Butabis attack a referee who tried to stop them from cheating. His furious flurry of fists would quickly be overcome by the Butabi brothers (Anthony and Johnny Drinko), but his interruption started a chain of events that somehow led to him being the last man standing in the ring- and in control of FTF 7.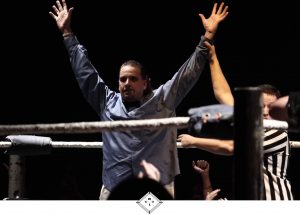 But heavy is the head that wears the crown, and – as is tradition in Hoodslam- revenge is swift.  The Butabis brothers approached Referee Guido face to face and told him they weren't too impressed by his win, leading to Guido saying some not too nice words himself. In the end, both Anthony and Johnny Drinko Butabi resorted to fisticuffs, and laid out our stoned official.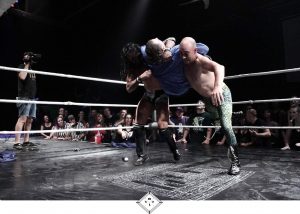 Referee Guido, perhaps enraged , then made a daring proclamation ; at Fuck the Fans VII he will personally fight at Hoodslam for the first time ever – Against Johnny Drinko Butabi!  Shit is on like neckbone.
comments