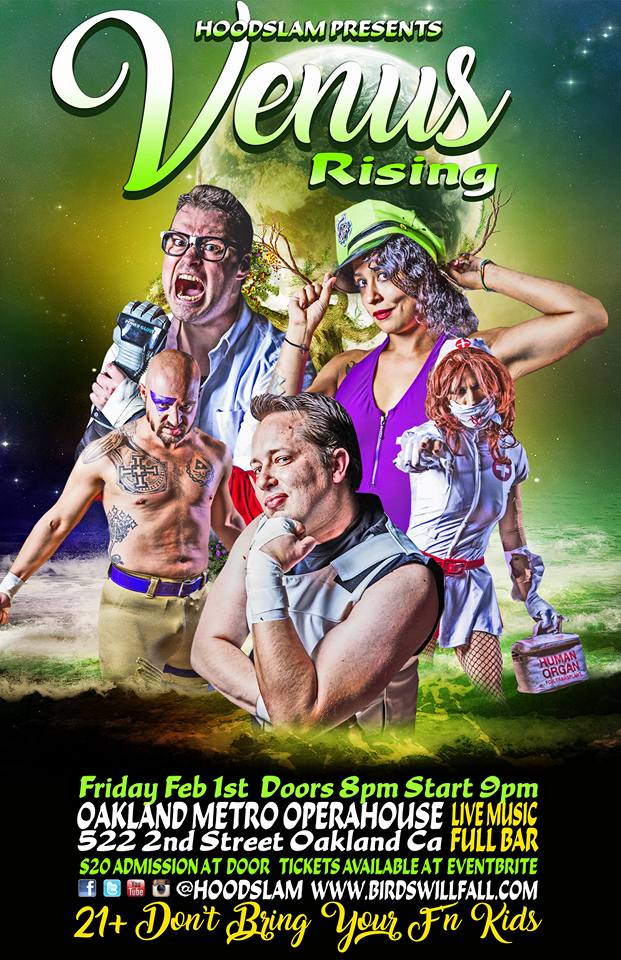 Venus Rising
February 2nd, Oakland Metro Operahouse
Stoner U Pre-show hosted by  Screaming Eagle Mike O'Shea and Scott Rickerson
– Berkeley Brawler and Richard Shhhnary defeated Coach Nuggs and Brutal Rob Hands
HOODSLAM Hosted by Christina Swaguilara (Broseph getting his early Femmed Out on), music by the Hoodslam Band
– Drugz Bunny and James C came to the ring to challenge the CAUTION for the Intergalactic Tag Team Championship, but were interrupted by Chupacabra and Funnybone, who thought they deserved a title shot more.
1. El Chupacabra and Funnybone defeated James C and Drugz Bunny
Post match, Drugz Bunny expressed the sentiment that going sober and getting his title shot against PONG was a lost cause, and he should just quit.  However, his long time romantic interest Kammey made a return, and inspired him to continue forth.
Golden Gig Champion PONG would come to the ring next, stating that his opponent for Entertania would be determined by an over the top Battle Royal TONIGHT.  He was then interrupted by his former friend and companion FONG, who challenged him for the Golden Gig Title in a 10 minute IRON MAN MATCH.
2.  PONG defeated FONG in overtime 6 falls to 5 to retain the Golden Gig Championship in a ten minute Iron Man Match
The CAUTION came to the ring to defend against FunnyBone and El Chupacabra, but were instead interrupted by Doc Atrocity, Brittany Wonder and Nurse Ratchet (oddly dressed as Nash, Hall and Syxx-Pac respectively, in Hood World Order shirts).  They know that Chupy and FunnyBone have a shot, but they requested a shot of their own, in exchange for what was in the box that Doc Atrocity held.  Ean Hancement looked in the box and agreed, without Anton or anyone else being aware of its contents.
3. The CAUTION Ean Hancement and Anton Voorhees defended the Intergalactic Tag Team Championship against Brittany Wonder and Doc Atrocity (w/Nurse Ratchet)
Post match, Ean Hancement took the box backstage, and never revealed its mystery.
4. Katarina Leigh fought Shotzi Blackheart to a no contest – What began as a fun match between two athletes soon turned ugly, as blood, furniture and referees were strewn everywhere.  After both referees Nuk Nuk and Guido had been incapacitated, Referee Wiggles declared the match a no contest.  The backstage area emptied in efforts to separate Katarina Leigh and Shotzi Blackheart, as the two were not swayed from combat by any declaration that the match had ended.
5. "Hollywood" Cereal Man defeated Gregory Iron to retain the Best Athlete in the East Bay Golden Fannypacks after interference from Doc Atrocity, Brittany Wonder and Nurse Ratchet.  The beat down continued, but Pooh Jack and his trash can of weapons would help clear the ring, and Gregory Iron and Pooh Jack celebrated in spite of the tough loss.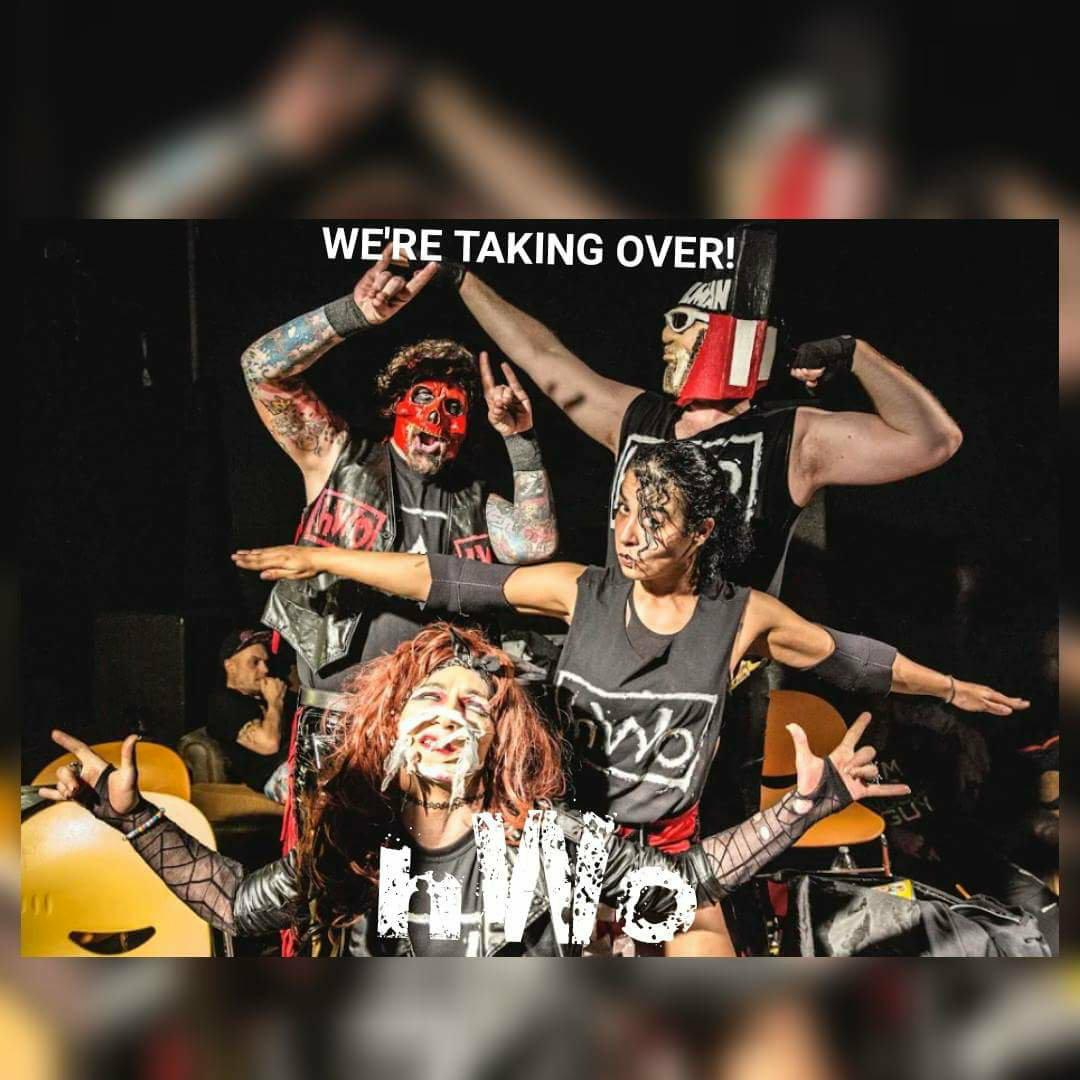 6. Virgil Flynn III and BatManuel defeated Zangev Darevko and Johnny Drinko Butabi – these four combatants have found themselves enthralled in competition against each other for months, this time taking sides.  Neither team found themselves totally psyched to team up, but perhaps Zangev and Drinko visibly moreso, as Zangev piledrove Johnny Butabi after their team took the fall.
7.  Number One Contenders Battle Royal:  An interesting bout, as many participants from earlier Hoodslam matches entered the ring.  To their surprise and dismay, Ryu, Ken, Coach Nuggs, Brutal Rob Hands and Scott Rick Stoner had talked during the Hoodslam event, and decided to form up until they got to the end.  They quickly handled many of the participants, until Stoner U students Manny Faberino, Big B, Brawler, Shhhnary and Steven Tresario came to the ramp, and declared a similar unified front.  The factions battled, and Anthony Butabi, dressed as Chyna (cuz Femmed Out is the 24th anyway, why not?) entered the fray and the full battle was on.  The finish… TWO WINNERS, Drugz Bunny and James C!
That's the show, follow us on social and tell us how much you liked it or think it sucked.  Watch it on twitch FREE and have a slightly more educated opinion.  But definitely don't  NOT watch it and then try to tell us what we're missing.  That's some bullshit.
Femmed Out is February 24th.
Fuck the Fans.
comments