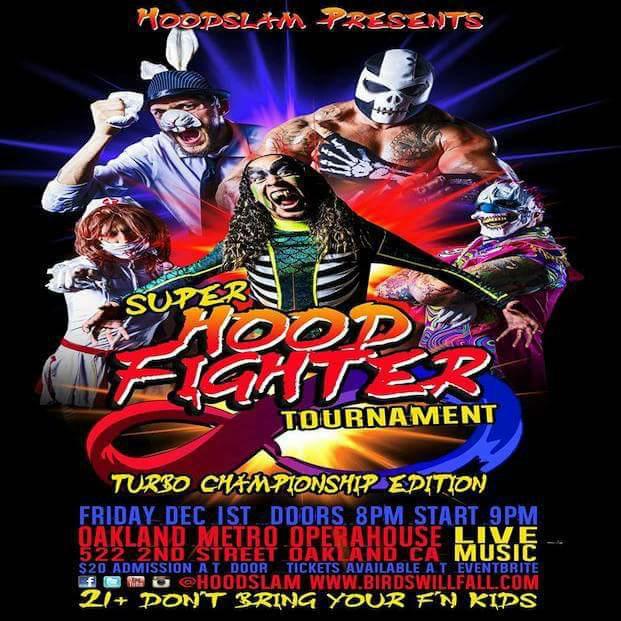 Stoner U preshow hosted by Mike OShea and Scott Rickerson
The CAUTION (Anton Voorhees and Ean Hancement) d Manny Faberino and Big B to retain the Intergalactic Tag Team Championship
Hosted by Broseph Joe Brody and The CAUTION, music by the Hoodslam Band
1.  (Evil?) CerealMan defeated Virgil Flynn III
2. Brutal Rob Hands d. Steve Tresario
3. Johnny Drinko Butabi d. Zangev Darevko
4. Glorious Banana d. Richard Shhhnary
– Golden Gig Champion PONG addressed the audience, stating he would defend the Gig against an opponent hes never faced at January 1st Friday.
5. El Chupacabra/SuperBeast/Funnybone d. Doc Atrocity/Brittany Wonder/Nurse Ratchet
6. Cereal Man d. Glorious Banana
7. Johnny Drinko Butabi d. Brutal Rob hands
8. Drugz Bunny / James C d. Ryu / Ken & Stoner Brothers
9. Anthony Butabi and Coach Nuggs survived a two fall four way dance against Berkeley Brawler and Batmanuel to retain both Best Athletes in the East Bay Golden Fannypacks
10. Cereal Man d Johnny Drinko Butabi to with the HoodFighter Tournament, and earn a shot at Golden Fannypacks
Watch it on youtube or twitch!
comments