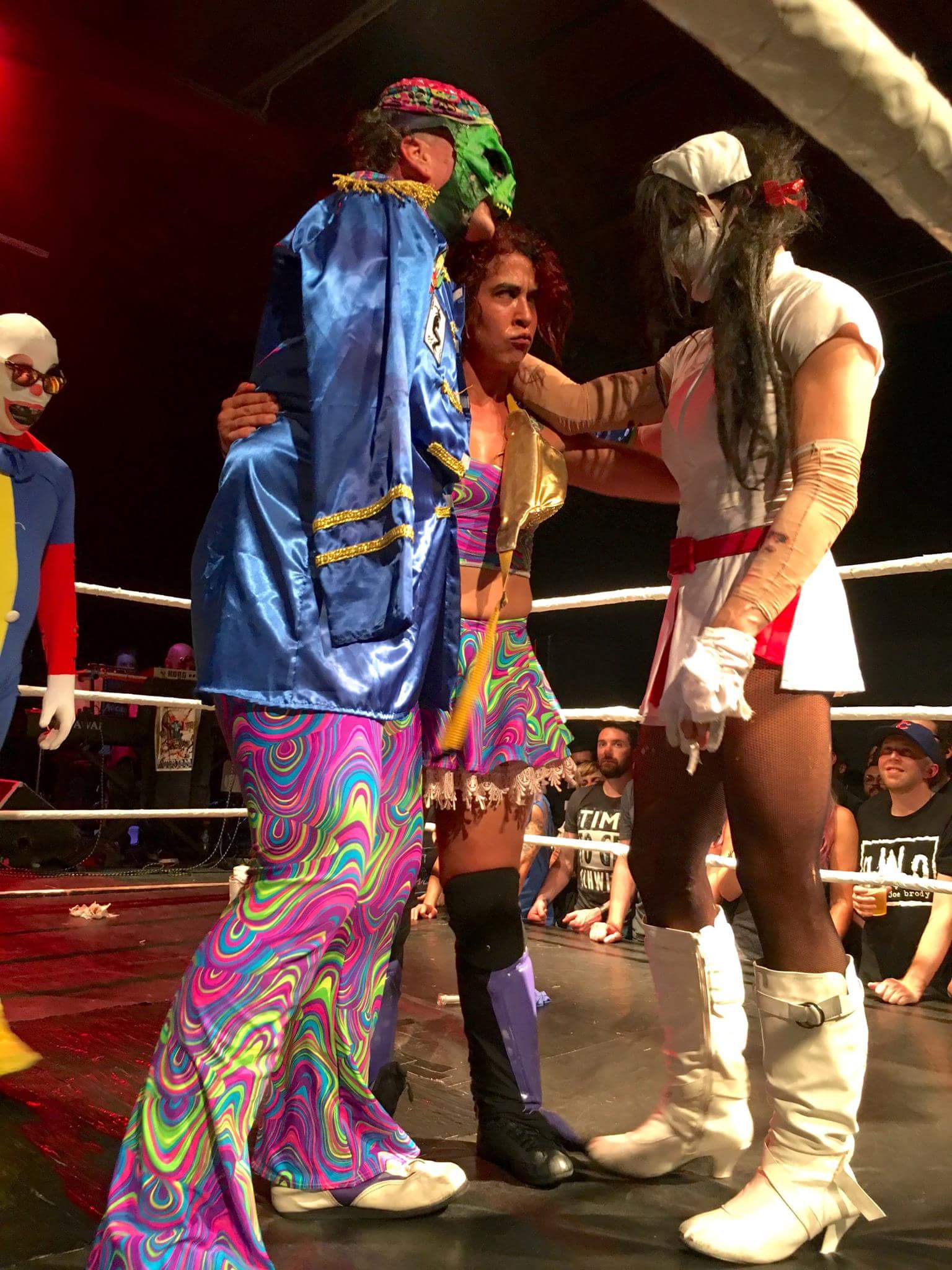 May 5th
Oakland Metro Operahouse
We know the line gets a little long, so the Stoner Brothers and Stoner U have been helping us out with a monthly pre-show Stoner U Showcase!
-2. Super Beast defeated Peanut Butter Jelly Banna with a running powerslam into the corner and mat, aka Oklahoma Stampede.
-1. #SINGOFTHERING Tournament Opener: Ryu defeated Brittany Wonder with Backstreet Boys "i want it (that way)"
– Your hostest with the moistest Broseph Joe Brody did commentary, with music by The Hoodslam Band!
1. Shotokan Dojo (Ryu and Ken) defeated The New U (Coach Joey Nuggs and Brutal Rob Hands)
– SophEans Choice: Best Athlete in the East Bay Ean Hancement relinquished his Championship to Doc Atrocity, who in return returned "Link to the Future" Anton Voorhees from the multiverse. James C, visibly distraught about the injury and absence of his partner Juiced Lee,  attempted to replace Anton as Ean's Best Friend.
2. Anton Voorhees defeated James C to remain friends with Ean Hancement.
– Doc Atrocity awarded Brittany Wonder the Best Athlete in the East Bay Golden Fannypacks, making her champion. He then introduced her to a surprise opponent.
3. Brittany Wonder defeated Nurse Ratchet to retain Best Athlete in the East Bay Golden Fannypacks.
4. Team GAME OVER (PONG and FONG) defeated the reunited Anthony Butabi and Johnny Butabi after Johnny *checked out* and watched Anthony get pinned. The brothers agreed that though they cared for each other, both wanted to do their own thing without their brother.
– Drugz Bunny addressed the crowd as winner of last months CM PUNK MEMORIAL LETHAL LOTTERY TAG TEAM TOURNAMENT BATTLEBOWL CHAMPIONSHIP Trophy.  This allows him any match with any Hoodslammer anytime. He informed everyone that he DOES intend to challenge Golden Gig Champion ( Pissed Off Nerdy Gamer ) PONG, but when hes good and ready, as hes aware his coke addiction can make him impulsive.
Cereal Man, who PONG narrowly defeated in the ENTERTANIA VII main event, told Drugz Bunny that he needed one more shot at PONG.  He needed Drugz to give him his trophy so he could get onelast chance.  Drugz did not agree, and the two surprisingly decided to wrestle about it.
5. Drugz Bunny defeated Cereal Man to retain his CM Punk Memorial Trophy.
6. The Stoner Brothers & ECW/WWE/Lucha Legend Super Crazy defeated Virgil Flynn III & El Chupacabra & "Dark Noche" Batmanuel to retain Intetgalactic Tag Team Championship Titles.
Hoodslam Again!
Totally 90s EXTREME! – May 14th – San Francisco – DNA LOUNGE
Monday Night Hoodslam – May 22nd – Sacramento – DISTRICT 30
Chasing Waterfalls- June 2nd- Oakland- Metro Operahouse
Read us on social! Look at us on Instagram. Watch us on youtube! Hollar when you see us on the street!
Birdswillfall.com ,  FTF
comments