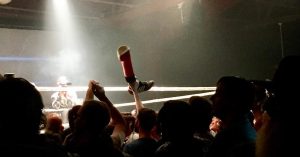 Hoodslam & ArnoCorps: Get Your Ass to March III – Bigger, Badder, Ballsier
Friday, March 3, 2017
Oakland Metro Opera House
Oakland, CA
Paid attendance: sold out
Tonight's musical guest was the greatest band of all time, ArnoCorps.
Live commentary by "Broseph" Joe Brody.
ArnoCorps set 1: Total Recall, Terminator, You Lack Discipline.
1. Brittany Wonder def. Pizza Cat.
Doc Atrocity entered the ring followed by Zombie Gorilla Vinnie Butabi (with two-headed baby Hoodslam) and his old clown henchmen Giggity and Botchy. The Aliens Drucilla, Troof and Conundrum officially thanked and awarded Doc Atrocity for saving the universe from The Walking Phoenix in January. Their mission completed, the Aliens returned to space.
The CAUTION (Caution!) "The LINK to the Future" Anton Voorhees and "The Talent" Ean Hancement interrupt Doc Atrocity to finish their deal: they hand over the title of Best Athlete in the Eastbay to Brittany Wonder, and he would return a repaired DARK Sheik robot to them. However, the physical Golden Fannypacks were stolen by Johnny Drinko Butabi, and Doc Atrocity did not see this as fulfillment.
Anton calls out Drinko, but instead gets the team of James C. and the returning JUICED Lee – looking for revenge after all 3/3rds of The CAUTION (Caution!) broke JUICED Lee's arm in October. Fucking finally, we have a match…
2. James C. & JUICED Lee def. The CAUTION ("The Talent" Ean Hancement and "The LINK to the Future" Anton Voorhees).
3. Ken Masters def. Virgil Flynn III.
ArnoCorps set 2: Commando, Real American, I'm Ballsy, Mr. Freeze
4. Triple threat match: Johnny "Drinko" Butabi def. Ryu and Mr. Freeze.
Following the match, Doc Atrocity demanded that Drinko give him the Best Athlete in the East Bay Golden Fannypacks that Drinko stole from Anton Voorhees, lest he send Drinko into an alternate dimension by way of a portal he built – as he did The Walking Phoenix. The CAUTION (Caution!) comes out and Anton Voorhess willingly voyages into the portal, in a mad attempt to find the actual DARK Sheik, who was lost through the same portal 4 years ago.
"The Talent" Ean Hancement was granted an opportunity to win the Fannypacks back from Johnny "Drinko" Butabi at EnterTania, but if he loses he is banished from Hoodslam. If he wins, Doc Atrocity has said he will only return 1 favor: pulling Anton back, or returning a repaired DARK Sheik robot.
5. Intergalactic Tag Team Championship: The Stoner Brothers (Rick-Scott Stoner and Scott-Rick Stoner, champions) def. the "Last Action Hero" villains (Benedict and The Ripper) to retain.
6. Tag team match: The New U ("Brutal" Rob Hands and Coach Joey Nuggs) def. Red Sonja and Conan the Barbarian.
ArnoCorps set 3: Predator, Eraser, Exactly, Pumping Iron.
7. Tag team match: Cereal Man and "The Dark Noche" Bat Manuel def. Team GAME OVER (Pissed Off Nerdy Gamer "P.O.N.G." and Fucking Obese Nerdy Gamer "F.O.N.G."
With this victory, Cereal Man earned the right to face P.O.N.G. for the Golden Gig in the main event of EnterTania. P.O.N.G. then made the match a match that P.O.N.G. has never lost – a Japanese Console War Death Match.
ArnoCorps came out for an encore performance with Last Action Hero.
Got pics or vids from the show? Post them with #hoodslam
You can watch a live stream of every first Friday show, and get every Hoodslam ever recorded on-demand, by subscribing to the Hoodslam YouTube channel for $1.99/month (includes free two week trial). Search "Hoodslammery" on YouTube.
Hoodslam runs at the Oakland Metro Opera House every first Friday of the month and will return on Friday, April 7 for Hoodslam's biggest show of the year, EnterTania VII. Tickets available now: https://www.eventbrite.com/e/hoodslam-presents-entertania-vii-tickets-32547866545
Follow Hoodslam on Facebook, Twitter, Instagram and YouTube, all @hoodslam.
Hoodslam is a 21+ event. DON'T BRING YOUR FUCKING KIDS!
www.BirdsWillFall.com
comments