Did you miss the piece NatGeo ran about Kayfabe, directed by Barry Blaustein ("Beyond the Mat"), and featuring the accidental phenomenon, Hoodslam? EXPLORER season 10 episode 5, the last ten minutes? (The centerpiece on rhino horn black market trade was fascinating too!)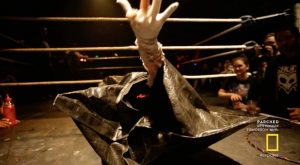 Fear not, we have the whole segment on our facebook page. Check it out here!
Also featuring Bubba Ray Dudley, Jim Cornette, Matt Striker, Tommy Dreamer, and hosted by Dan freakin' Rather!
#Kayfabe #Hoodslam
comments