Hoodslam 33 1/3
March 1, 2013
Oakland, CA
attendance: 570+
This month, the Hoodslam Band was known as Trouser Snakes on a Plane.
Live commentary by "KG" Kevin Gill and "Broseph" Joe Brody (WWE Tough Enough's A.J. Kirsch)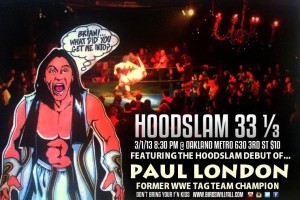 1. Virgil Flynn def Grandmaster G with a 450 splash.
2. Super Hashtag BFF Connect Friends (Bat Shelly [Martinez] and Super Amber [O'Neil] with Robin [Danielle Marinez] def Zangief and Blanka with Cammy (accompanied by Cammy's ass) with a facebuster.
3. Planet Rock (Boom Box and B-Boy with Soundwave) def The James Gang (James and Drugs Bunny) with a frogsplash.
4. Super Red Rhino 2099 Challenge: Super Red Rhino 2099 remained undefeated in the Super Red Rhino 2099 challenge def Anthony Butabi with a Super Gore 2099.
5. Dark Sheik (with D. Faust) vs Juiced Lee turned into Dark Sheik and Juiced Lee vs. The Stoner Brothers:Rick-Scott and Scott-Rick (The Golden Gig Co-Holders) saw the Stoner Brothers hit the Rizz Bomb on Dark Sheik and retained the Golden Gig.
6. RYU/El Chupacabra/Ultragirl Brittany Wonder def Otis the Gimp/Sexy Chino/Ken Masterz
7. Paul London def Johnny Drinko Butabi with a Shooting Star Press.
comments