Feb. 1 2013 at the Oakland Metro, Oakland, Ca
Attendance: 700+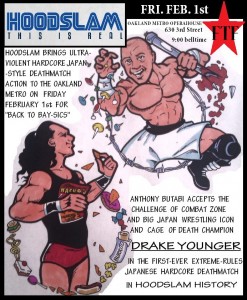 1. JUICED Lee d. Super Tiger (w/The Panther Party – Grand Master G, Mr
Hoodslam II, and Rasta Mysterio). Post match, the Panther Party
attacked JUICED Lee, but Pooh Jack came to his assistance and two
fended off the group.
2. Scorpion d. Johnny Cage in a match enhanced by Game Genie
3. The James Gang (James, Drugs Bunny & Stoney Montana) w/ Cammy d.
Team CAPCOM (E. Honda, Zangief & Blanka)
4. DARK Sheik w/ D. Faust successfully defended his East Bay Express
Best Athlete Award against Virgil Flynn III, El Chupacabra, Otis the
Gimp, Gorilla Vinny Butabi, Ultragirl Brittany Wonder and Butternuts
in a 15 minute Scramble. Post match, DARK Sheik retired the Award.
5. Planet Rock (B-Boy & Boombox) w/Shockwave d. Shotokan Dojo (Ryu &
Ken) w/ Cammy.
6. Super Red Rhino 2099 w/ Doc Atrocity, Nurse Servo Destructo & his
Killer Clowns from Outer-Oaktown d. Johnny DRINKO Butabi in Doc
Atrocity's Super Red Rhino 2099 Arcade Challenge
7. Golden Gig Champions Stoner Bros. (Rick-Scott & Scott-Rick) d.
Freak Squad (Dom Vitalli & Gabriel Gallo) to retain the Gig
Sideshow performance by the lovely and seductive Francine Dead!
8.Main Event: Drake Younger d. Anthony Butabi in a Hardcore Deathmatch
comments