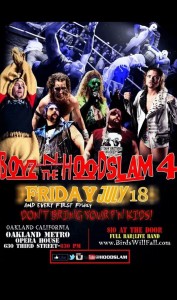 Boyz N the Hoodslam 4
3RD FRIDAY JULY 18TH at Oakland Metro Operahouse
$10 cover, 21 & up, dontbringyourfnkids
www.birdswillfall.com, follow Hoodslam on twitter, facebook, instagram, youtube, off a cliff.

"Knowing nothing in life but to be legit…"

Four matches have been announced, all part of the Top of the SkyDreamers Miracle eXstacy Cup!
BLOCK 1 –
El Chupacabra v "Hero of Highrule" Link
Virgil Flynn III v "Knight of the Roxbury" Anthony Butabi
BLOCK A –
Ryu v Jonathon Butabi
THE Brian Kendrick v James C w/Stoney Montana
Plus OTHER SHIZZ
The summer keeps heating up, and Hoodslam rises with the mercury. Once more, you lucky souls get double the Hoodslam, DOUBLE THE FUN(K). Details, as always, are being made up on the fly. ONE THING IS FOR SURE…wait, hold on…TWO THINGS ARE FOR SURE!
THING ONE – This show will be a critical turning point in the "Top of the Sky Dreamers Miracle eXstacy Cup"…whatever that is. I mean, most of the roster doesn't even know yet. So you know its gotta be good. Kayfabe makes the world go 'round!
Whatever it was, it began JULY 4TH, and it WILL CONTINUE through the 18th. I'm expecting at least a JVC Kaboom of the Week.
THING TWO – Well, boyz will be boyz. and girlz will be girlz. Sometimes boyz and girlz will be each other – none of this is really important to my point. Most of us were a kid some time, and a bunch of us had TVs then.
We'd gather round, searching for anything remotely captivating. Occasionally we'd score, but mostly we'd bide our time, waiting for that holy moment – Saturday Morning. Yes, the pinnacle of our childhood, the master of our domain, for most of us more sacred than church.
Sadly, those days have passed. Happily, we love nostalgia. So on the 18th, as the centerpiece to our our feast of flesh, we will pay tribute to this religious experience we called Saturday Mornings. It'll be like Ron Burgandy's wedding; on top of a mountain, flutes playing, trombones and flowers, and garlins of fresh herbs- and we will dance UNTIL THE SUN RISES, except YOU ARE INVITED.
We promise you'll like it more than Anchorman 2.
BOYZ IN THE HOODSLAM 4
3RD FRIDAY @ Oakland Metro Operahouse
630 3rd Street, $10 cover, 21 & up, dontbringyourfnkids
birdswillfall.com , social media stuff/us/follow it
did i not write? ok ill write it. FUCK THE FANS!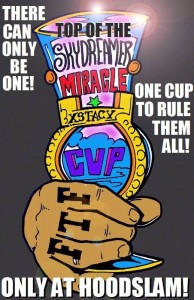 comments