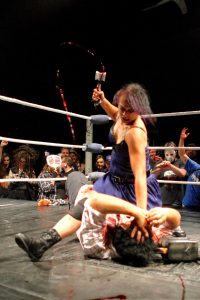 Hoodslam presents BLOODSLAM
Saturday, October 22, 2016
Oakland Metro Opera House
Oakland, CA
Paid attendance: 530-something-ish?
Live commentary by "Broseph" Joe Brody as JACKED Skellington.
Tonight's musical guest was Ghoul.
1. Donnie Drinko def. Big Van J.
2. Nurse Ratchet def. Dozer.
3. Pogo the Clown and Chucky def. Toby and Big Van J.
4. Officer Brittany def. Leatherface.
5. Van Helsing and Blade def. The Brood (Edge & Christian)
6. Scarecrow def. Stones.
7. Donnie Drinko, Toby, Officer Brittany and Officer "Big" Bosman def. Doc Atrocity, Nurse Ratchet, and seven Daelians.
8. Donnie Drinko def. Dael Mehl to survive his second consecutive BLOODSLAM.
You can watch a live stream of every first Friday show, along with every other Hoodslam ever recorded, by subscribing to the Hoodslam YouTube channel for $1.99/month (includes free two week trial). Search "Hoodslammery" on YouTube.
Hoodslam runs at the Oakland Metro Opera House every first Friday and will return on Friday, November 4 for Hoodslam: The Walking Phoenix: https://www.facebook.com/events/533713720153354/. Before that, however, Hoodslam returns to Reno, NV for Hoodslam: Bump N' Grindhouse at Cargo in the Whitney Peak Hotel: https://www.facebook.com/events/187393855016440/
Follow Hoodslam on Facebook, Twitter, Instagram and YouTube, all @hoodslam.
Got pics or vids from the show? Post them with #hoodslam.
Hoodslam is a 21+ event. DON'T BRING YOUR FUCKING KIDS!
www.BirdsWillFall.com
comments