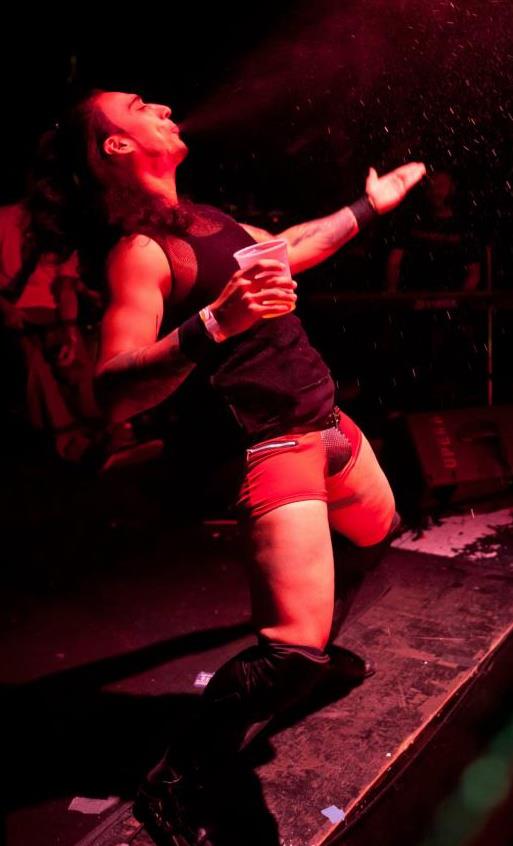 Height: 6'1/2″
Weight: 225lbs
Theme: What is Love? – Haddaway
Finish: Bondage-a-Go-Home (Pump Handle-Cut Throat Suplex), The Bong Rip (Cloverleaf-Lion Tamer)
Hometown: Sunset Strip
Favorite Drink: Zanex Cocktail
Affiliation: Butabi Family (Johnny Drinko Butabi, Vinny Butabi, Balki Butabi)
Rivals: Rasta Mysterio, Drake Younger, Kayfabe
Anthony Butabi has always been big on partying.  He's also been big on fighting with his brother.  Along with Johnny Drinko, they and Vinny were the Butabi brothers.  After Vinny passed, the two would fight in the CAPCOM Wars, and would also take on Rasta Mysterio in heated battles.  Anthony would have battles with his brother at Hoodslam as well, leading to the deadly doritos incident in May 2011 at the Victory Warehouse.
In August 2011, Anthony Butabi would have the first wedding in Hoodslam history, after proposing to Mathea II.  His family and former team mates, Johnny Drinko, Vinny, and Lucha Magnifico were his grooms men.  After finding out that the pregnant child of his new wife probably wasn't his, he lost his smile, and went into deep depression.  Only after finding encouragement in the words of Pink Panther was he able to emerge from his state.  Unfortunately, it led to the betrayal of his brother.
While aligned with the Panther, Anthony Butabi swore to finally get his piece of the Hoodslam pie.  Feeling held down, he, along with Panther and Super Tiger, waged a war on the upper echelon of Hoodslam until the Panther Party turned him. Anthony then rejoined Johnny Drinko to join the "good fight". The brothers tagged together until February 2013 when Anthony Butabi had his first deathmatch with Drake Younger and set a new attendance record (for the time being). In May 2013 Drinko turned on Anthony for liking Sega more than Nintendo.
Factoid – Anthony Butabi is the only wrestler to have performed at every Hoodslam starting with the original Hoodslam 0: The Prequel.