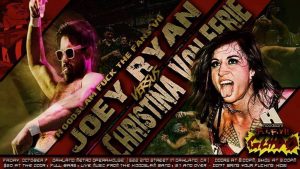 The King of Dong Style and YouPorn sensation Joey ryan makes his Hoodslam debut Friday October 7th! This southern California based grappler has wrestled on national Television, been featured on sportscenter, traveled the globe – all the while swinging opponents by his Penis.
No stranger to intergender struggles, Joey Ryan has personally requested a female opponent for his Oakland arrival – and Hoodslam has obliged in a big way; The Patron Saint of Filth Christina Von Eerie will step up at Fuck the Fans VII to challenge the baby oiled assailant Joey Ryan in mortal combat!
Will Christina fight the tide of Dong? Or will the Era of sleaze begin in Oakland? And how will both these participants involvement reflect upon the 30 Entity Rumble for the Gold Gig?
comments