Once a year 8 competitors compete in a one night single elimination tournament. The winner gains superiority over all that fell before her/him, but is also granted the opportunity to challenge for The Best Athlete in the Bay Award.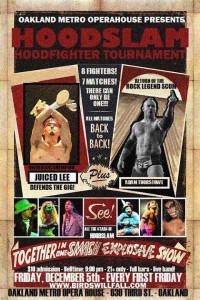 Entrants thus far:
– Hero of Highrule LINK
– Top of the SkyDreamers Miracle eXtacy Cup Winner The "Mexican Werewolf" El Chupacabra
– Stoner U Head Coach Joey Nuggs
– Another member of Stoner U yet to be named
– Rock Legend SCUM Adam Thornstowe
– Former Golden Gig Champion Anthony Riv Butabi
– Former Golden Gig Champion and Best Athlete in the Bay DARK Sheik
– Another mystery entrant to be determined!
But thats not all, as Johnny "Drinko" Butabi will finally get his shot at the Golden Gig against Juiced Lee in the first ever confrontation between two Hoodslam ICONS!
MORE STUFF! JAMES C – DRUGZ BUNNY – BRITTANY WONDER – THE STONER BROTHERS – VIRGIL FLYNN III – CEREAL MAN – JESUS KRUZE (<–spelled like that) – BATMANUEL – DOC ATROCITY – Commentary from BROSEPH JOE BRODY – much FUCKING more! –
Hoodfighter Tournament 2014
Dec 5th, doors at 8 show at 9 PM
Oakland Metro Operahouse
630 3rd Street, $10 cover
donotbringyourfnkids
www.birdswillfall.com @hoodslam on everything social
comments